From 9th till 16th of May 2020, Art Course in Umbria, Tuoro sul Trasimeno
Due to the outbreak of the corona virus, we have decided not to continue the painting holiday. We will be organizing the next edition in May 2021. Later this year dates for groups will be available in consultation.
You will be staying in our beautiful Villa Roccaccia. The villa is located on the outskirts of Lake Trasimeno and is surrounded by olive trees and vineyards.
The apartments are completely renovated in 2017. They are very comfortable and fitted with all modern conveniences. You wil stay in La Cucina, La Cantina or Il Magazzino.
Your teacher for this week is Trudy van Meeuwen. She has worked as a visual arts teacher at a high school in the Netherlands. She has followed her education at the Academy of fine Arts in Arendonk, Belgium. She also had several exhibitions of work throughout the Netherlands.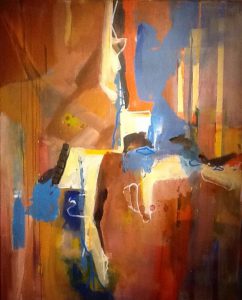 She guide you in your creative process and based on your personal wishes, she can advise you in the field of what materials to the use of color and imagery. You will be working mainly with acrylic paint, but if you prefer something else, that's also a possibility. The lessons will be held in small groups, so that there will be plenty of time for each person. It doesn't matter if you are a pro or a beginner, everybody is welcome.